Nancy Slob celebrated her 10th anniversary at Navingo last year. Coming in as a Sales Support Employee, she has grown into an Event Coordinator. For years she has been a familiar face and important player within the Navingo event team. We spoke to her at Navingo's headquarters.
"To create a beautiful design together with our exhibitors and to give substance to the exhibition floor, is what I enjoy most."
FIRST FEMALE DREDGING CAPTAIN
As an "expat" child, Nancy grew up in different countries. Before moving to the Netherlands at the age of 18, she lived in Denmark, France, Dubai, Canada and Sweden. "My father has worked for years in the dredging & offshore sector at companies such as Smit, Jan De Nul, Boskalis and Van Oord", says Nancy Slob, Event Coordinator at Navingo BV. As a young girl she was already interested in the maritime and offshore world. "From an early age I said I wanted to be the first female dredging captain. When my father told me that there were already several female captains, I backed off and went to study hotel management. Something completely different ", said Nancy.
Despite this turn of events, Nancy continued to have an interest in the industry that her father was working in. "My father read daily news on MaritiemNieuws.nl, one of Navingo's earlier news websites (news can now be found under NavingoCareer.com) , and saw that Navingo was looking for a Sales Support Employee. The position was  really appealing to me, and this way Navingo offered me the opportunity to be active in this sector without having been specifically trained for it. "
WORKING AS AN EVENT COORDINATOR
In the early days, as a Sales Support Employee, Nancy was involved in managing the vacancies and website of MaritiemeVacaturebank.nl, the predecessor of NavingoCareer.com. More and more tasks were added until she was fully deployable and could support the entire HR sales department as a back office employee. "After five years, Navingo was looking for a temporary replacement for the Event Coordinator, due to maternity leave. I took this opportunity with both hands. The click with the team was so good and the work was perfect for me. After the return of the colleague who had already given birth, I stayed in the team. I have been an Event Coordinator for over five years now, my range of duties has grown enormously, as have my responsibilities ", Nancy explains enthusiastically.
As an Event Coordinator, Nancy is responsible for setting up the events that Navingo organizes, namely Offshore Energy Exhibition & Conference and the Navingo Career Event. "Not a day is the same". I am involved in making floor plans, hiring materials, maintaining contacts with exhibitors about their bookings and stand layout, communication and negotiation with suppliers, logistics planning, but also supervising the construction and dismantling during the event. What I enjoy most about my work is these diverse activities and being able to be creative. "
FROM A DESIGN TO A COMPLETE EVENT
According to Nancy, the challenge lies in being able to anticipate. "Nothing is more changeable than a person and the choices they make. For example, stands are often modified several times because the wishes of customers change. In addition, the biggest challenge lies in translating a design on paper into a complete event. In theory, choices can work very well, but turn out to be different in practice. But that makes it fun and challenging. I think it's great to come up with a beautiful design together with exhibitors and suppliers and give substance to the exhibition floor. "
Looking back on the last 11 years, Nancy is most proud of the Navingo Career Event 2019. "In 2019 we moved from the WTC Rotterdam to the RDM Rotterdam – Onderzeebootloods. We have changed the whole concept and were able to give the event a new look. Think of a new type of stand construction, a completely new floor plan, a new method and a much more extensive program with tours and an outside area with fun activities. It was a risk, but it has been a huge success! "
"The entire team contributed to this success, which is what made it so much fun," Nancy continues. "I work with super nice and motivated people. The atmosphere in the office is cozy and friendly. " Fun things are also done together outside office hours. "The Friday afternoon drinks, celebrating Sinterklaas with the children of colleagues and a really nice Christmas dinner, where I cooked for the entire team last year. Another hobby of mine. But also sporty outings, such as blow karting on the beach, conquering storm courses or sailing. Team spirit is very important here. "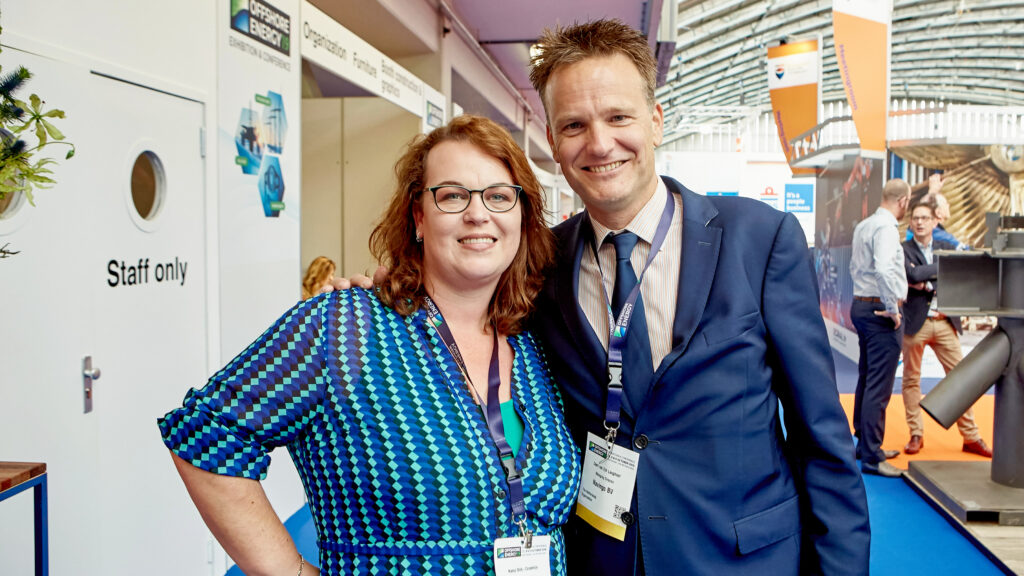 Photo: Nancy Slob, Event Coordinator, with Coert van Zijll Langhout, Managing Director at Navingo